Gocha Youth Lock-In! Gocha of Gocha Hair Salon is always busy and this isn't any different, her foundation "Gocha Illumination Foundation is giving back with a Youth Lock-In held this past weekend in Atlanta, GA and some of her friends helped her with the one night event.
GOCHA ILLUMINATION FOUNDATION HOSTS LOCK-IN FEATURING GOCHA HAWKINS,
KANDI BURRUSS, KWANZA HALL & MORE
GIF Founder Gocha Hawkins with Kandi Burruss, R&B Girl Group Glamour and the program's special participants at the Center of Hope-MLK in Atlanta
Photo credit: Chris Mitchell/CME 3000
(ATLANTA) - May 2, 2016 - Over the weekend, the
Gocha Illumination Foundation (GIF)
hosted an overnight
Youth Lock-In
at the
Center of Hope-MLK
for local teenage girls ages 13-17. Over 40 girls participated in the event which featured a welcome rally with GIF founder
Gocha Hawkins
, Atlanta City Councilman
Kwanza Hall
,
Kandi Burruss, DJ Fadelf
, R&B group
Glamour
,
Johnny McCray
(Sam's Club) and
Anika Robertson
(Design Essentials); mentoring sessions on Problem-Solving, Leadership and Self-Esteem; movies, games and tons of food! During the rally, McCray announced that GIF has won a Walmart Community Grant in the amount of $1000!
A number of experts donated their time to lead the mentoring sessions including Loronda Giddens, Anthony Knight, Diva Tyler, Dr. Jennifer Fowlkes-Callins, Dr. Whitney Lankford, Dr. Tosha Rogers and Fredricka Kinlow. Additionally, Gocha's team of stylists provided press n' curls, cuts and manicures for the girls throughout the night.
The Lock-In was made possible by the generous support from sponsors Gocha Salon, Sam's Club (Store #6409, Tucker GA), V103, City of Atlanta Dept of Parks and Recreation, Papa John's (Flat Shoals Crossing), Zaxby's (425 Ponce de Leon), McDonald's (526 Ponce de Leon), 135th Street Agency, Target (Edgewood),Kroger (725 Ponce de Leon), John Paul Mitchell Systems, Design Essentials and Allied Marketing.
Special thanks to Fulton County Deputy Sheriff Sergeant
Robert Grady,
Center of Hope MLK director
Nigel Murphy
and A/V director
Leo Soto
.
The Gocha Illumination Foundation is a 501(c)(3) non-profit that provides charitable services to displaced teens who are victims of sexual, physical and emotional abuse. To learn more about GIF or to make a donation, visit www.gochailluminationfoundation.org (Tax ID # 46-329-5284).
Follow GIF on social media: @GIFoundationInc (TW), @GochaIlluminationFoundation (IG) and GochaIlluminationFoundationInc (FB).
Eager parents and their daughters showed up early for check in!
The young girls were greeted with gift bags including products from John Paul Mitchell Systems and Design Essentials
Atlanta City Councilman Kwanza Hall, Gocha Hawkins, Anika Robertson (Design Essentials), Johnny McCray (Sam's Club)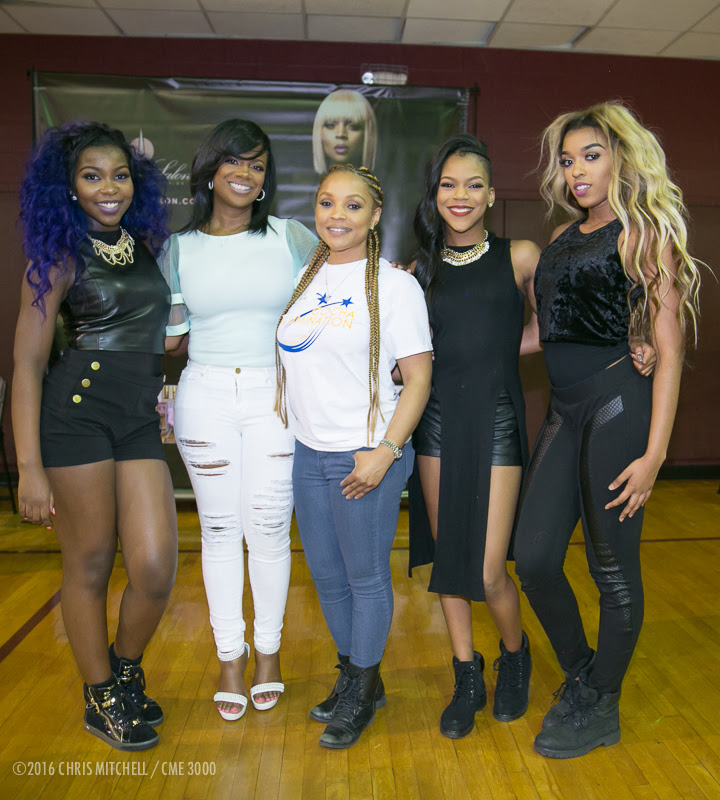 Gocha Hawkins and Kandi Burruss pose for a picture with R&B girl group Glamour after their performance
GIF Founder Gocha Hawkins takes a moment to speak with the girls

The young girls were bursting with questions

Effective leadership qualities were just one of the topics discussed through the night

The conversation got deep as Dr. Whitney Lankford discussed problem-solving techniques

The girls also created vision boards displaying their passions and goals

Beauty makeovers were also a part of the night!
Papa John's provided plenty of pizza for the girls
Zaxby's also kept the girls well fed throughout the night
The snack buffet was on fleek thanks to Sam's Club, Kroger, Target, McDonald's and various food sponsors.
GIF's inaugural Youth Lock-In was a huge success!